HANNAH BURNS SELECTED AS TEACHER OF THE YEAR AT CENTRAL ELEMENTARY SCHOOL Hannah Burns was recently selected as Central Elementary School's 2022 Teacher of the Year. Hannah formerly lived in Texarkana, Arkansas, and is a 2009 graduate of Genoa Central High School. She became a permanent Magnolia resident after meeting and marrying her husband, Josh, at Southern Arkansas University. She graduated from SAU in 2013 with a BSE in Early Childhood Education. Hannah is completing her ninth year of teaching fourth grade literacy at Central Elementary School. She enjoys serving as the fourth grade literacy chair and on many special event committees. During her time at Central, she has started a recycling program, led a school wide vocabulary initiative, and helped put on many of their annual academic pep rallies. Hannah's favorite part about working at Central has been the relationships she has formed with colleagues and students. Education has always been "in the family" for Hannah. Both of her parents were public school educators for many years and inspired her love of teaching. Her father retired after 30 years of teaching and coaching, and her mom is retiring this year after 37 years of teaching elementary school. Both of her sisters and their husbands are also teachers in different school districts in Arkansas. Hannah has been married to Joshua Burns for 10 years, and they have a four-year-old daughter, Lincoln Kate. Outside of school, she enjoys reading, spending time with family and friends, and different creative hobbies like decorating, sewing, crafting, and design. Hannah and her family also enjoy serving with their church family at New Life Community Church.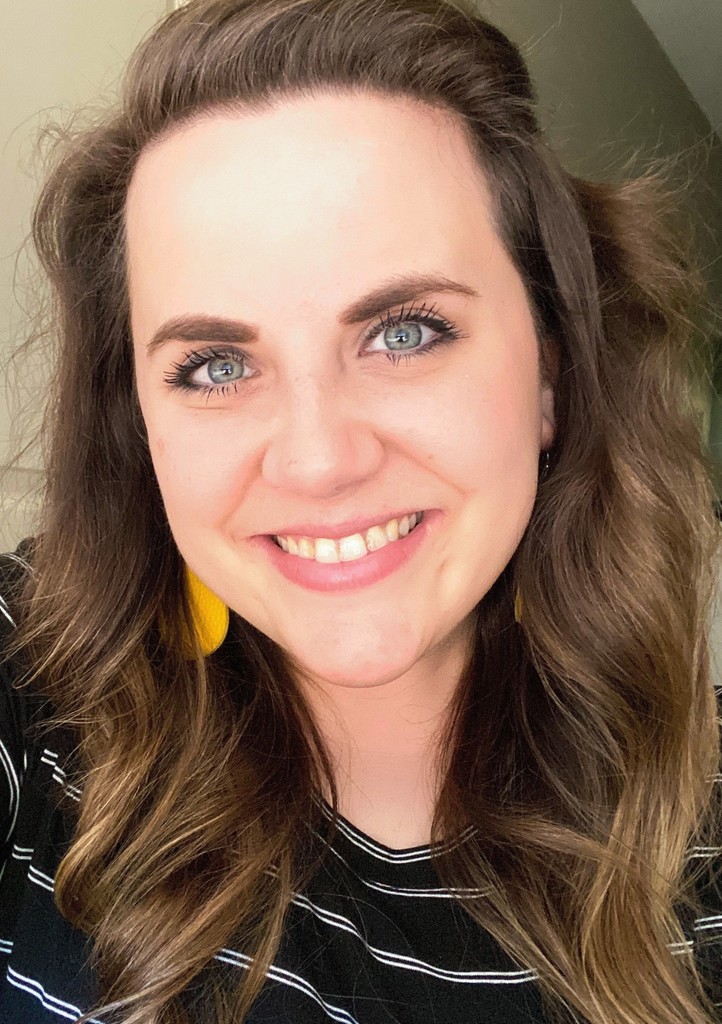 SHEILA WALLER CHOSEN WALKER PK CENTER TEACHER OF THE YEAR Sheila Waller was recently selected as the 2022 Teacher of the Year at Walker Pre-Kindergarten Center. Sheila is originally from Camden, Arkansas and is a graduate of Harmony Grove High School. She attended Southern Arkansas University where she received her degree in Elementary Education in 2018. Her teaching career began four years ago when she was hired at Walker Pre-Kindergarten Center. Sheila states, "I worked at Walker Pre-Kindergarten Center previously as the Family Services Manager but had to leave due to conflicts with my education classes. I was devastated. I prayed for God to show me my purpose and give the position I desired. I cannot imagine a better working atmosphere to guide, educate, and care for students. My coworkers are my family, and my students are my heart. I am blessed beyond measure." Sheila is married to Scott Waller and together they have two children, Hannah and Ethan. Hannah is a senior at Magnolia High School and Ethan is a seventh grader at Magnolia Middle School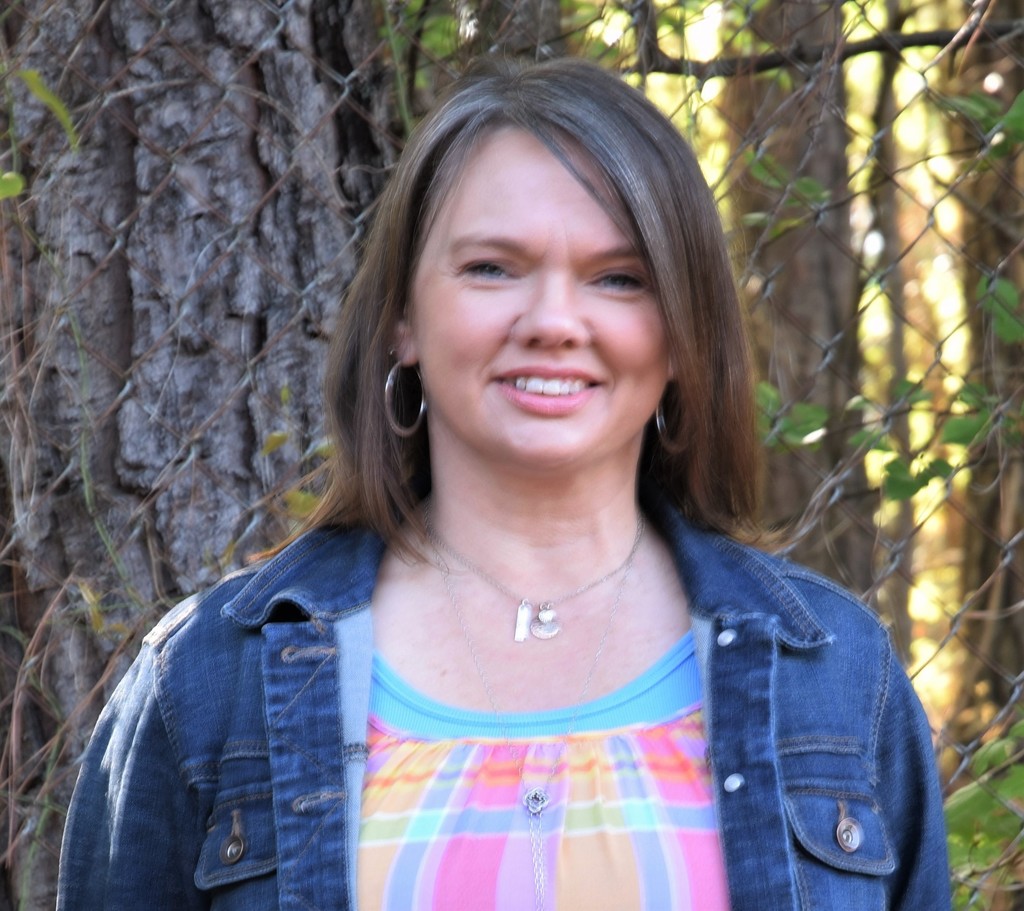 SARAH STORY CHOSEN EAST SIDE ELEMENTARY SCHOOL TEACHER OF THE YEAR Sarah Story was recently selected as the East Side Elementary School Teacher of the Year. Sarah is a self-contained, Special Education teacher at East Side. Originally from Mt. Pleasant, Texas, she came to Magnolia in 2009 to attend Southern Arkansas University. She did her student teaching at East Side and graduated with her bachelor's degree in Early Childhood Education in 2013. Sarah continued her education by pursuing and graduating with her master's degree in Special Education in 2015. She has been working for the Magnolia School District for 9 years. Her East Side family helped her plan her wedding to Andrew Story in 2016 and regaled her with tales of motherhood when she was getting ready to welcome their son Theo into the world in 2018. The East Side family has been by her side through all of the ups and downs of life, and she says that they are the reason that she is the teacher she is today. In her free time, she enjoys running, reading psychological thrillers, and listening to true crime podcasts. Her goal as a teacher is that each of her students will know that they are valued and important. She saw a quote once that stated, "Just because a student is nonverbal does not mean they have nothing to say". She enjoys helping students, both verbal and nonverbal, learn how to express themselves and explore their world, while also developing their social and academic skills. The greatest moments for her are when she sees her students begin to grasp concepts that they have struggled with in the past, whether it is a student who is only beginning to communicate using their voice or other communication system or tackling an academic skill that they have wrestled with for a long time. She became a teacher because she believes that if we want to change the world, we do it by educating children and teaching them empathy, reasoning, communication, and to believe in themselves. She is honored, humbled and thankful to be chosen by her peers to represent East Side as Teacher of the Year. It would be her privilege to be chosen as the Teacher of the Year for the District where she started her journey as a student teacher and that continues to provide opportunities for her while challenging her to be the very best teacher she can be for her students and her peers.

Thomas Campos-Diaz is a senior at MHS and is also an intern in the Work-Based Learning Class. Thomas works at the Walmart Garden Center. Click the link below to hear Thomas share his experiences of what he has learned as a student intern.
https://youtu.be/mUi9q8-DU1I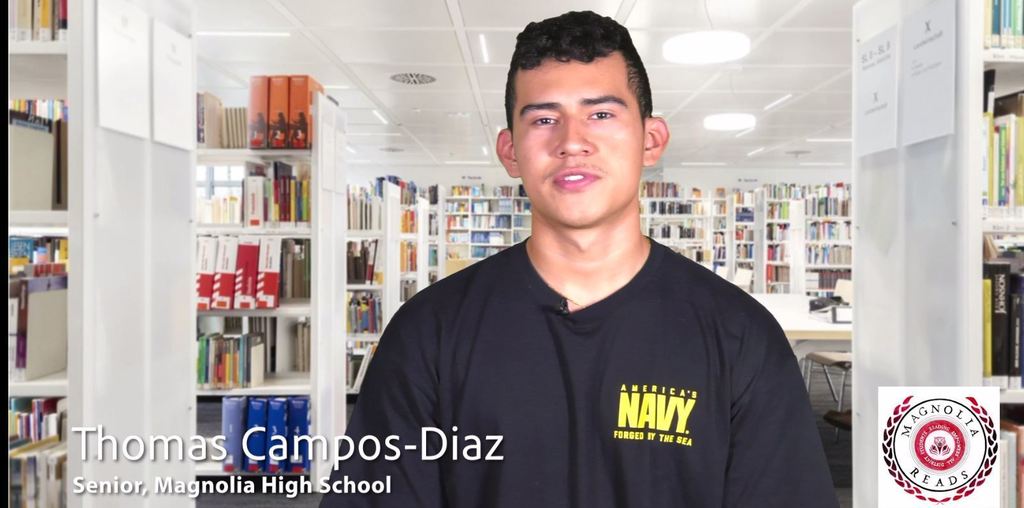 In today's Magnolia READS video, 1991 Magnolia High School graduate and former Lady Panther athlete, Stephanie Manning Bradford, shares the lessons she learned as a teenager working a job while fulfilling her responsibilities as a student and athlete. Click the link below to hear Stephanie's story.
https://youtu.be/n9MR0m2Rtx4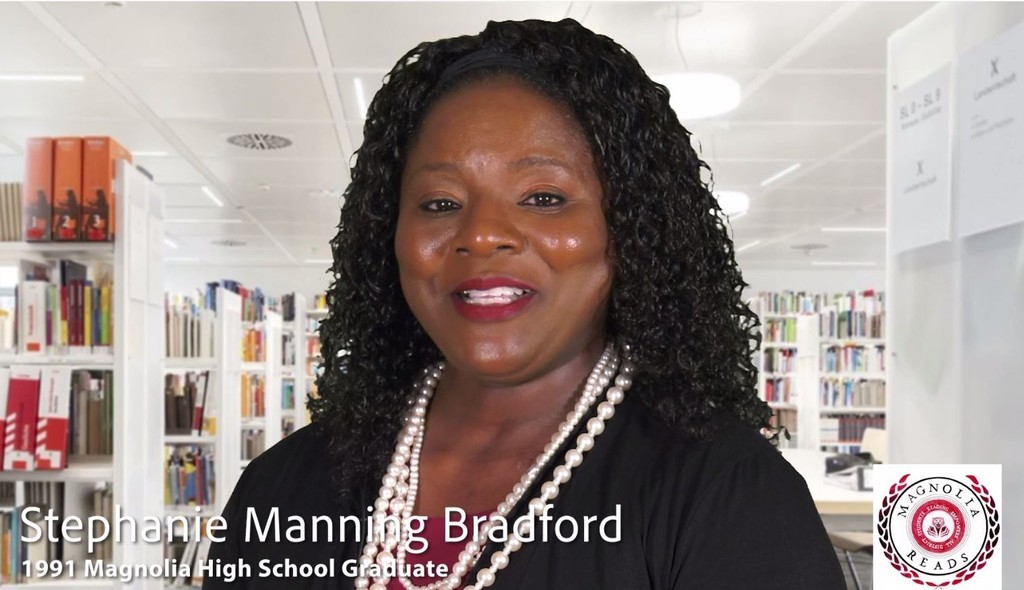 Peoples Bank Donates Copies of Coach Williams' Book to Walker PK The Magnolia School District and Walker Pre-Kindergarten Center appreciate Peoples Bank for purchasing Lady Panther basketball coach Shanae Williams' children's book Trading Places: A Tale of Two Best Friends Who Never Lost Hope for the students and staff at Walker. Peoples Bank representatives Jamie Waller and Debbie Arnold presented each student with an autographed copy of the book and a bookmark. Coach Williams went to each classroom to read her book to students.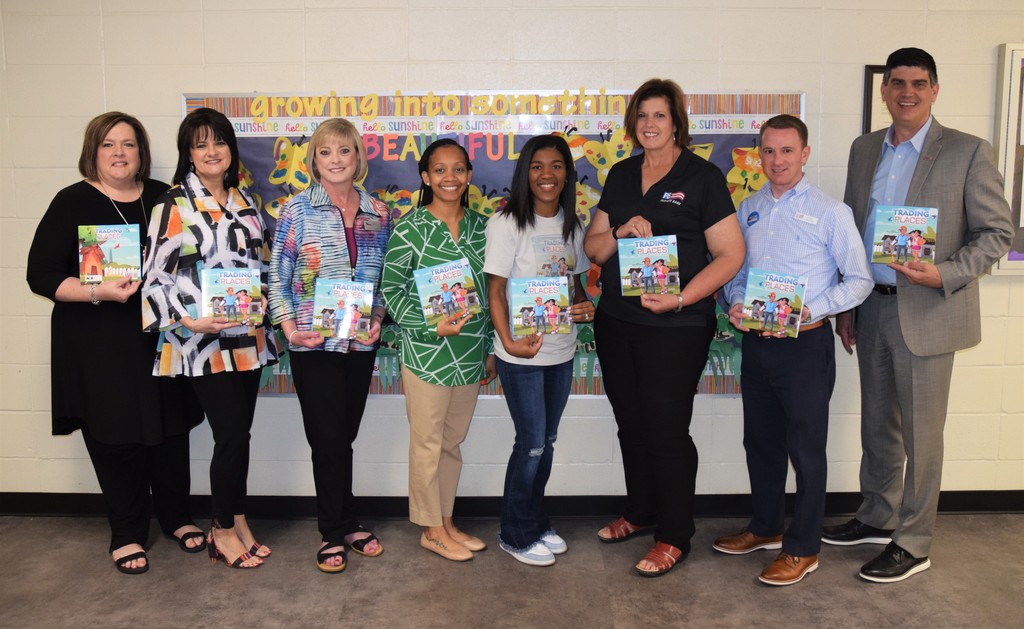 Our first video in the 2022 Magnolia READS Video Series comes from MHS senior, Jalaiha Bishop. Jalaiha is a student in the Work-Based Learning class and an intern at Flying Burger. Click the link below to hear Jalaiha share what she has learned in her intern class and on the job in regards to managing her finances, developing a work ethic, and working with others.
https://youtu.be/UeaAVaEWEsg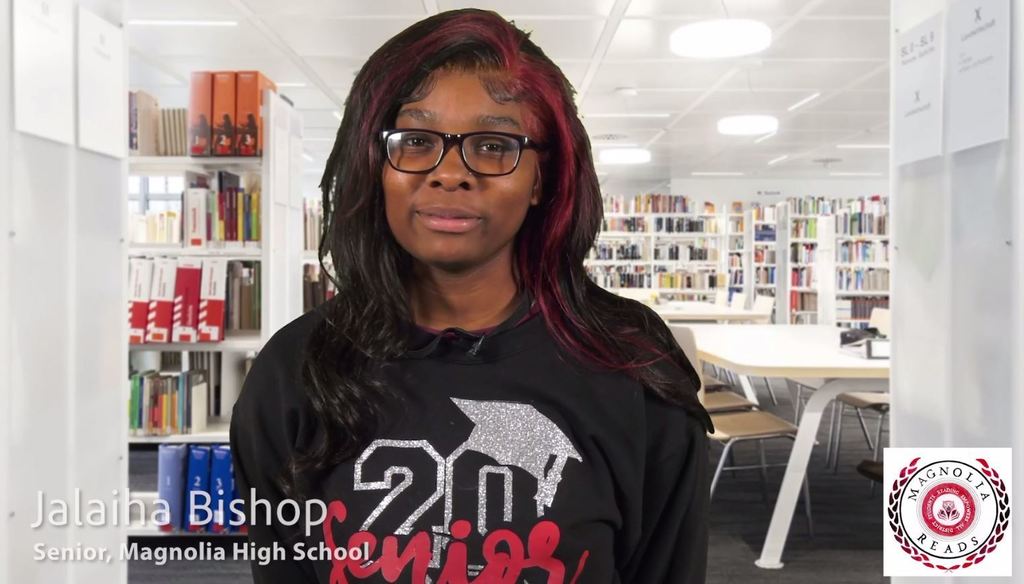 Magnolia READS Kick-off On Monday, April 11, students at East Side and Central Elementary Schools will once again embark on a special project, an all-school book club and financial literacy project called Magnolia READS. The acronym READS stands for Reading Empowers All District Students. Each kindergarten through fifth grade family will receive a copy of the same book—Lunch Money by Andrew Clements. Families are encouraged to make time to participate in this fun and worthwhile family activity. Reading aloud at home with your children is a valuable experience that better prepares your child to be an effective reader. While students at the elementary schools will read the book, other district students will also be involved in this project. For the third year, Farmers Bank & Trust Co. is collaborating with the District on the Magnolia READS project. Farmers purchased the book Lunch Money for all the students and staff in grades K-5. Economics Arkansas also partners in the project. They helped supply the students and staff with resources to use while reading the book. The District extends our deepest appreciation to Farmers Bank & Trust for the donation to purchase the Magnolia READS books and to Economics Arkansas for supplying the supplemental resources and bookmarks for all students.

The yearly Magnolia READS (Reading Empowers All District Students) financial literacy initiative kicked off today for students at East Side and Central Elementary Schools. Students in kindergarten through fifth grades will read Lunch Money by Andrew Clements. The District greatly appreciates Farmers Bank & Trust for purchasing the books for the third consecutive year for students, faculty, and staff. Our deepest appreciation also goes to Economics Arkansas for providing bookmarks for the students, and resources and activities for the teachers. Click the link below to view Mr. Ward introduce this year's project.
https://youtu.be/0cKtKwpKGV4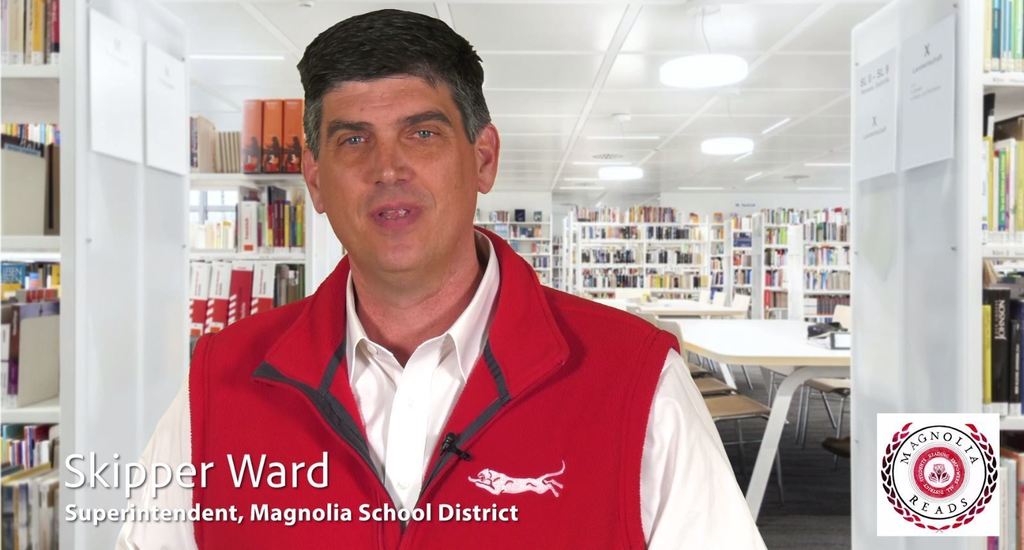 NATIONAL ASSISTANT PRINCIPAL WEEK APRIL 4-8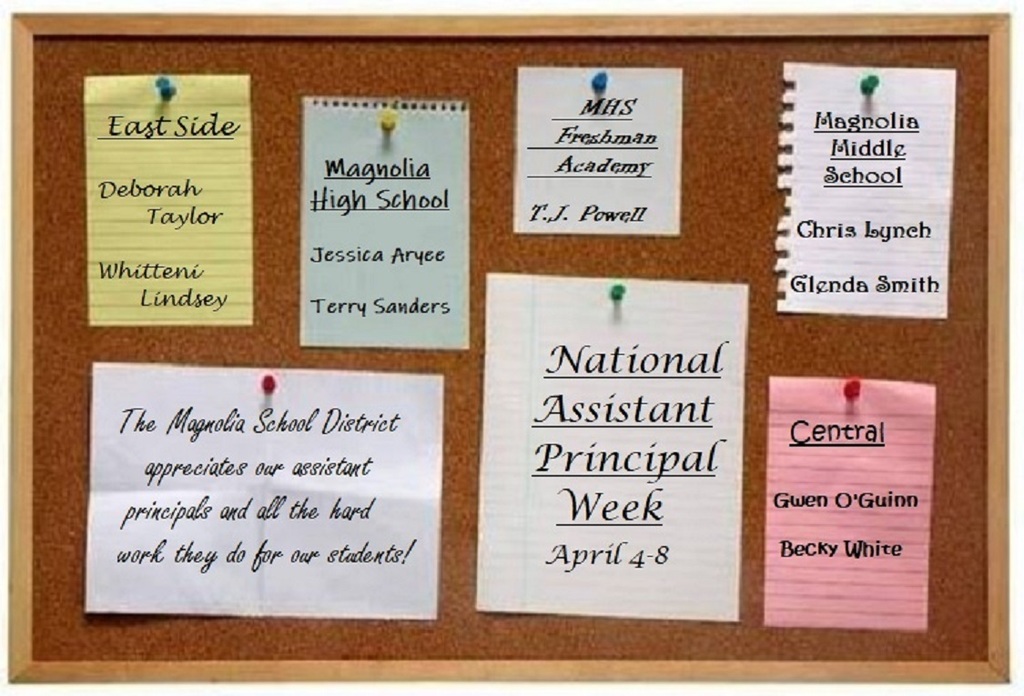 Come out tonight for Pictures & Autographs with the Panthers! 5:30-7:30 @ Panther Arena! Posters will be sold, cost are $20 for smaller poster and $30 for larger poster. Cash only, so please come prepared with correct cash if interested. All proceeds go to fund their Championship rings !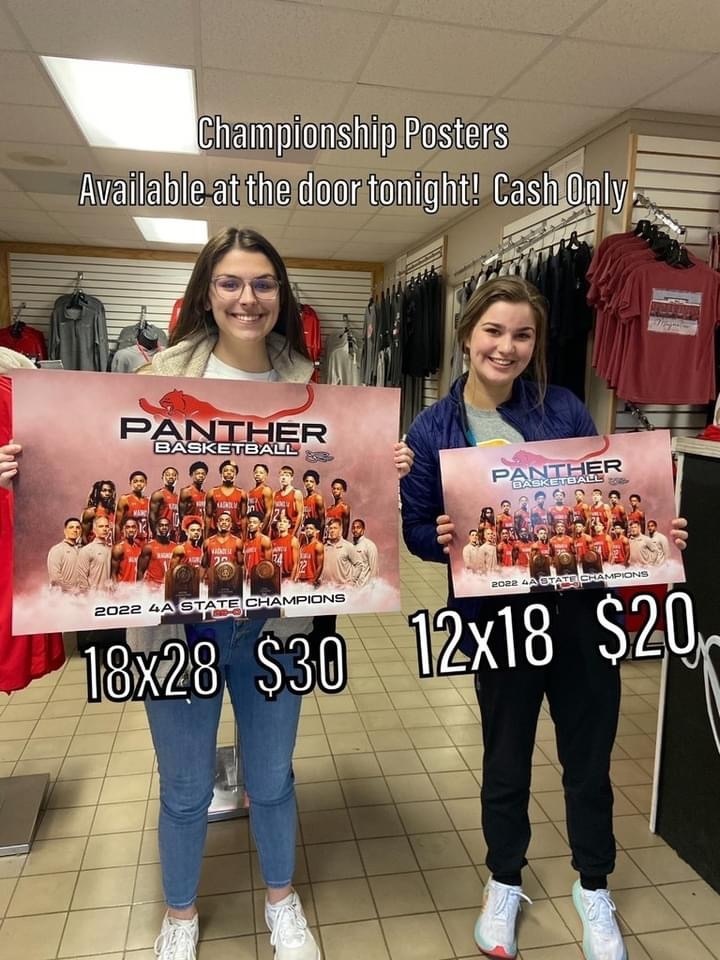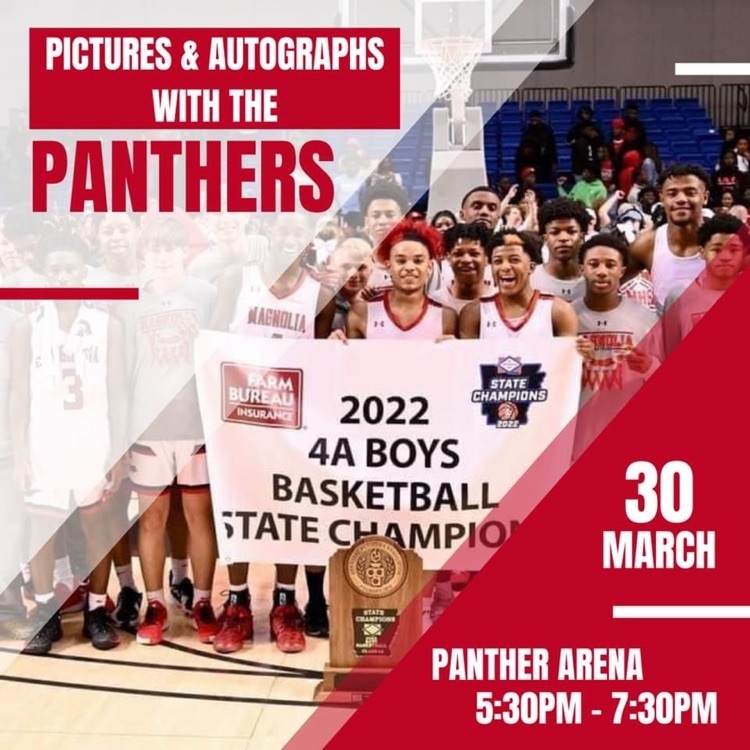 Attention: The cow bus will not run today We apologize for any inconvenience this may cause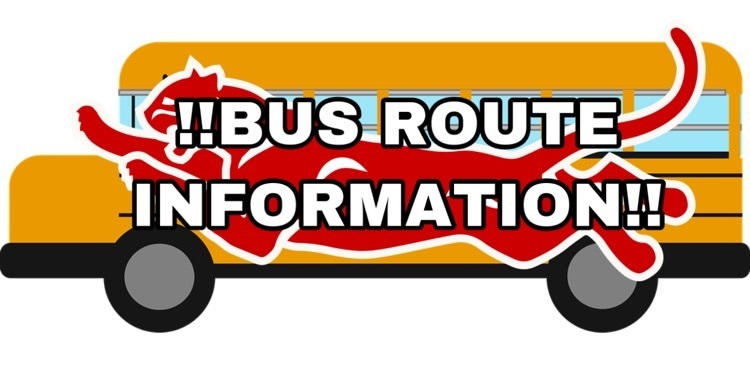 Attention The flower bus will not be running TODAY. Also, the frog bus will not be running TODAY or TOMORROW. We apologize for any inconvenience this may cause.

Derrian Ford, for the second year in a row, has been named the 2022 Arkansas Gatorade Player of the Year! Congratulations! Magnolia is proud!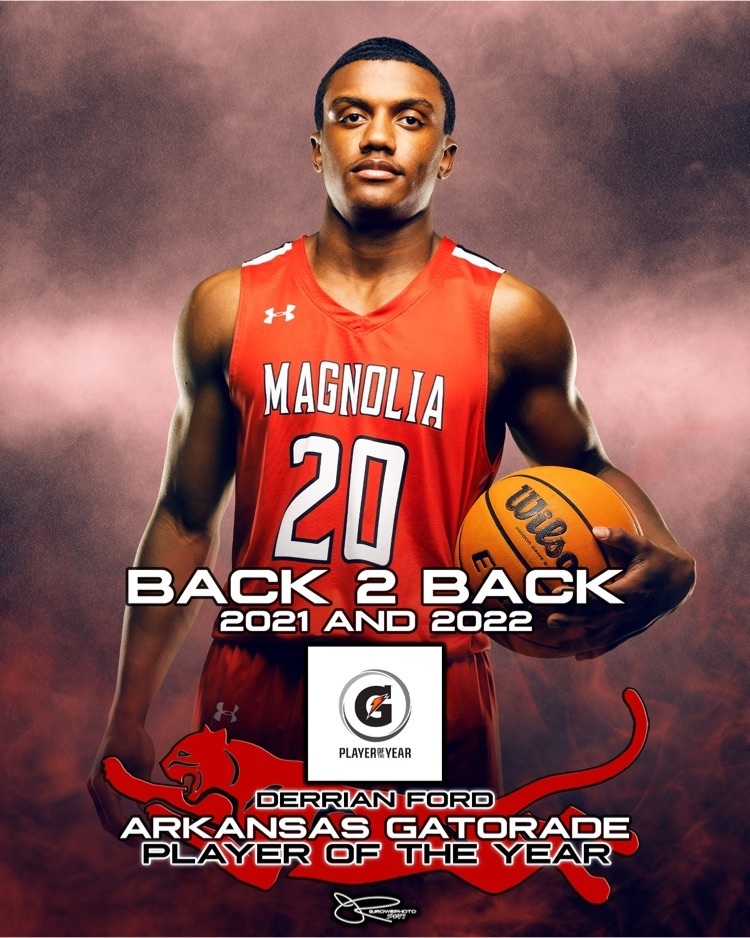 2022 MHS SCIENCE FAIR Magnolia High School ninth grade students recently competed in their local Science Fair on Monday, March 14. The students competed in five individual categories and one team category. A first, second, and third place award was given in each classification. The individual science categories were Medicine and Health Sciences, Physical Science, Biology, Earth/Environmental, and Math/Engineering, The team of Morgan Middleton and Savannah McDonald won the team division and were named Overall Winner for the entire science fair. Their project was named, "Shock the Rust Away." These students are now eligible to compete at the Regional Science Fair located on the campus of Southern Arkansas University on Friday, April 1. Individual category awards went to: Medicine and Health Sciences 1st – Race to Relief – Tate Stephens 2nd – How Dirty Is Your Mask – Grant Wiggins 3rd – EKG vs Optical – Makaila Stagner Physical Science 1st – Casein Plastic – Chalondria Larry 2nd – Stain Go Away – Addison Boyd 3rd – Does it Change – Addyson Faulk Biology 1st – Gram Staining and Antibiotics – Kadence Ellis 2nd – Spray vs Wipes – Olivia Langford 3rd – Does Quantity Affect Satisfaction – Rayleigh Herron Earth/Environmental 1st – Dissolved O2 and Aquatic Life – Reed Kirkpatrick 2nd – A Dirty Look at Expanding Soybean Production in Southwest Arkansas – Conner Waters 3rd – Which Water Works Best? – Collin Hampton Math/Engineering 1st – Durability of Different Kinds of Pipe in Extreme Temperature – Range White 2nd – Record Breaking Temperature – Joseph Lewis 3rd – Levee – Blake Green Team 1st – Shock the Rust Away – Morgan Middleton and Savannah McDonald 2nd – Moldy Menu – Jayden Young and Sophie Ellington 3rd – Levels of Enzyme Development – Ashlynn Ray and Allison Mann Overall Winner Shock the Rust Away – Morgan Middleton and Savannah McDonald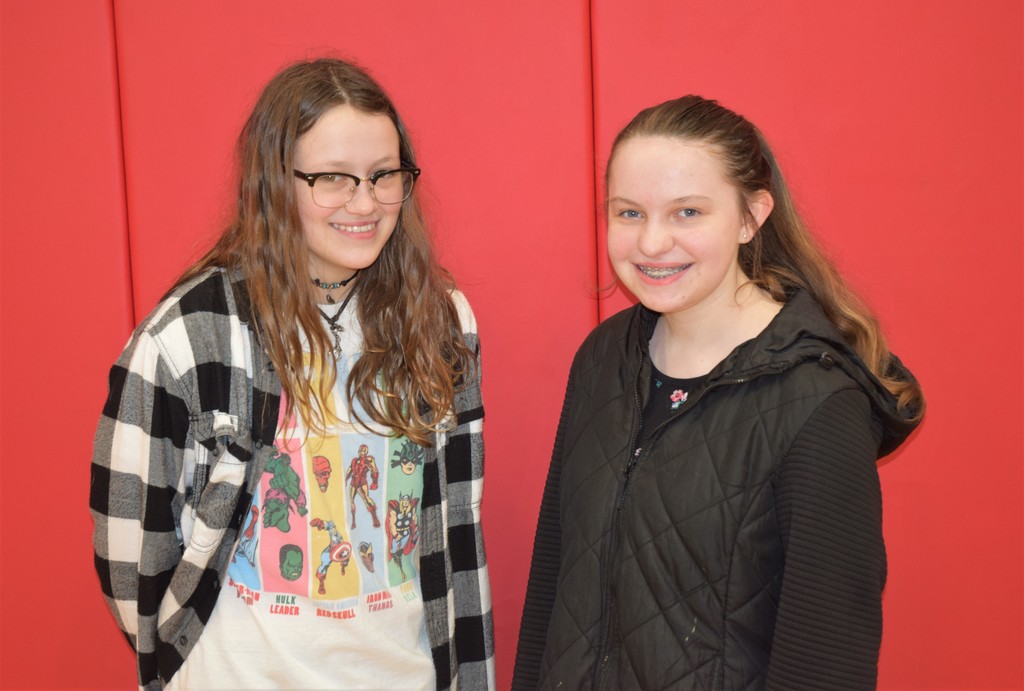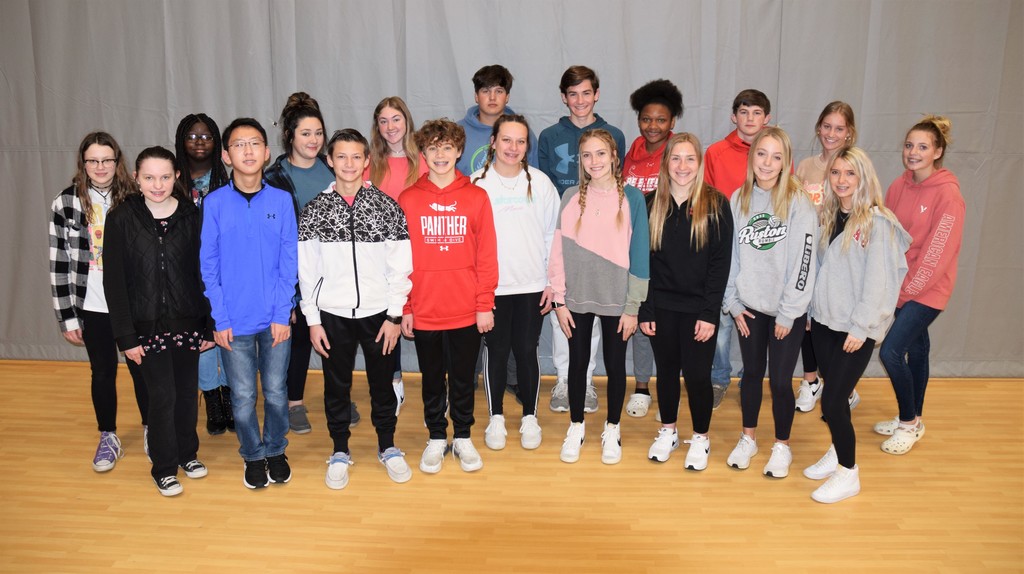 PANTHERS TV PLACES FINALISTS IN MEDIA COMPETITION Several Magnolia High School students have recently earned finalist positions in the Arkansas State Creative Media Competition to be held Friday, April 9. This ASU program allows students from across Arkansas to go for the gold in more than fourteen categories in video and audio production, photography, online content production, graphic communication, video and audio talent. These students are currently enrolled in different levels of AV, film, TV production classes at MHS. They are also members of Panthers TV, an AV Tech and Film course that focuses on video production and live streaming. The course prepares students to be multifaceted in all forms of media production. In Long Form Video (1 minute or more) Magnolia has three of the eight finalists • Jaden Boyd – "Eye of An Artist" • Nic Green – "Life of a Baller" • Jayla Lambert, Chyna Neal, Darrell Jones, Jada Carter – "Chem Lab Safety 101" In Live Multi-Cam Broadcasts, PanthersTV has two of eight finalist selections • Magnolia vs. Watson Chapel (Basketball) • Magnolia Senior Night (Basketball) For Graphic Design, Magnolia has one of three finalists • Malaya Wincher (Lady Panthers Logo)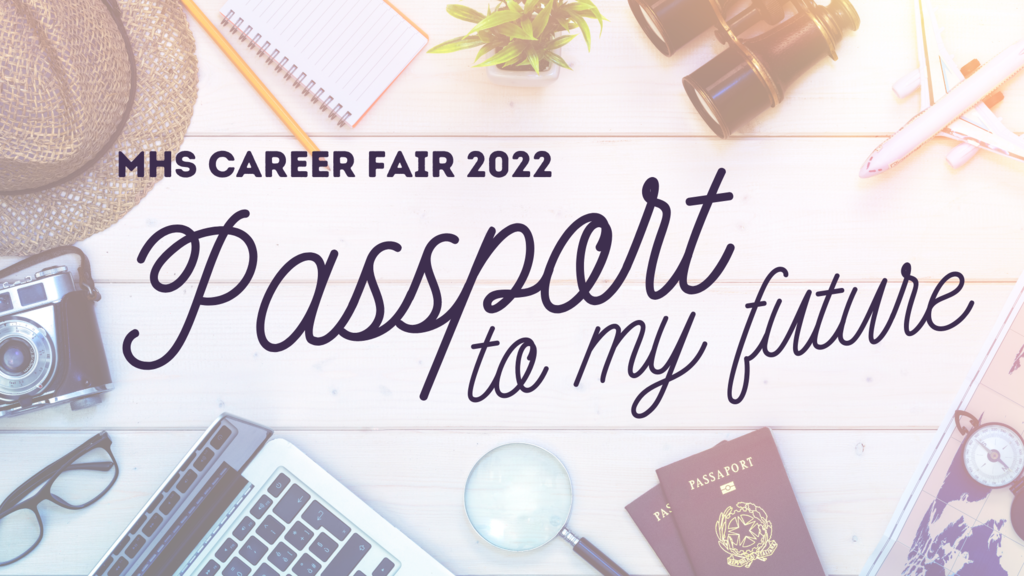 PANTHER BASKETBALL TEAM TO HOST EVENT FOR FANS The MHS Panther basketball team will host a PICTURES AND AUTOGRAPHS WITH THE PANTHERS event at Panther Arena on Wednesday, March 30 from 5:30 pm-7:30 pm. The Panthers just completed an undefeated season and won the 4A State Basketball Championship. The team would love the opportunity to thank the Panther Nation fans who have loved and supported them so well!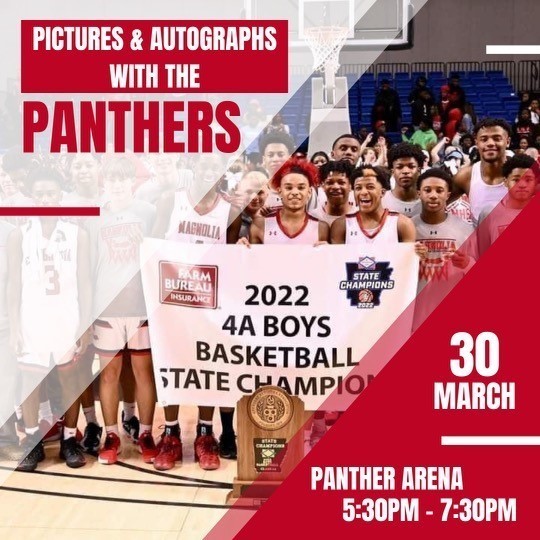 HAMILTON EARNS MASTER PROFESSIONAL EDUCATOR LICENSURE Keri Hamilton, an English Language Arts teacher at Magnolia High School, recently added the Master Professional Educator designation to her Professional Licensure. Hamilton had become a National Board Certified Teacher (NBCT) through her work during the 2018-19 school year. National Board Certification is the most respected professional certification available in education and provides numerous benefits to teachers, students and schools. It was designed to develop, retain and recognize accomplished teachers and to generate ongoing improvement in schools nationwide. To earn the Master Professional Educator designation, Keri had to submit an application through the Arkansas Educator Licensure System. Requirements of the application include providing evidence of a minimum of three years licensed teaching experience, verification of being rated effective or highly effective on her most recent summative evaluation, and verification of completion of a Master Professional designation pathway, which would include National Board Certification.