Little Rock and New Orleans FBI Offices Warn of Sextortion Schemes in South Arkansas Click Here for FBI Press Release:
https://5il.co/19t8p

MHS HONORS ADVANCED PLACEMENT SCHOLORS Magnolia High School students who had taken Advanced Placement (AP) courses and passed one or more AP test in May of 2021 were recently honored with a reception and awards at the MHS Panther Café. These scholars were awarded $50 per test passed last year and were presented with a yard sign. The students receiving awards were Giavanni Hardwell, Riley Hall, Sam Trout, Samantha Wilson, Kevin Cabriales, Keylee Camp, Tristan Jones, Kate Slaton-Bunner, Monet Coppersmith, Lindsey Cornwell, Troi Kacsir, Bailey Kelley, Maria Lopez, Rory Lowther, Autumn McKenzie, Gabriel Reyna-Garcia, Cole Roberts, Alyson Cranston, Jakobi Jacobs, Cage Arnold, Eli Barnett, and Chris Dai. Not pictured are Hunter Manuel and Colin Herold. Five of the MHS Advanced Placement students were awarded medals and cords to wear at graduation for passing multiple AP tests last year. Eli Barnett and Monet Coppersmith were awarded cords for passing at least three tests. Troi Kacsir was named an AP Scholar with Honor for passing four or more tests, while Sam Trout and Chris Dai were awarded AP Scholar with Distinction medals for passing five or more tests.

This Magnolia READS video features an update from Tatum Carter, a seventh grader at MMS. Tatum learned the foundations of financial literacy during the Magnolia READS project when she was in the fourth grade. As a result of her 2021 Magnolia READS video and her journey as a young entrepreneur, Tatum is featured in a special supplement in the April Arkansas Business magazine. The supplement honors the 60th anniversary of Economics Arkansas, a partner in Magnolia READS. Mr. Ward joins Tatum in the video to present her with a copy of the magazine. Click the link below to hear Tatum's update and view the special presentation.
https://youtu.be/HG6DBJZ_PU4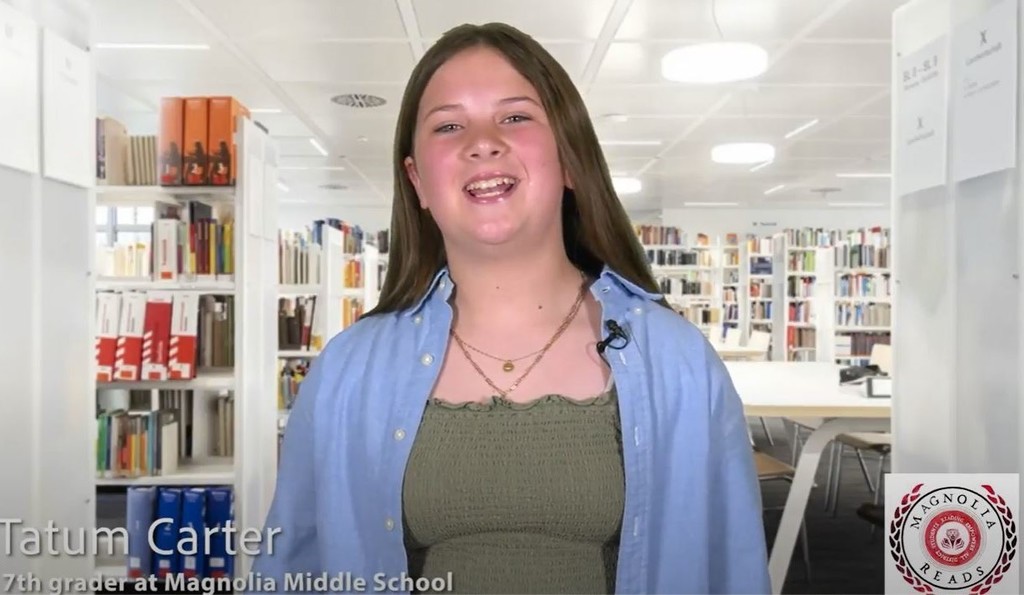 TATUM CARTER RECOGNIZED IN ARKANSAS BUSINESS MAGAZINE Arkansas Business magazine recently published a story on Magnolia Middle School seventh grader, Tatum Carter. The magazine included a supplement on the 60th anniversary of Economics Arkansas and the story of Tatum as a teenage entrepreneur is featured in the supplement. Tatum recorded a video for Magnolia READS in 2021 talking about her baking business, Tatum's Tasty Treats and sharing her journey as a young entrepreneur. She started her business at the age of 11 when school was closed for the pandemic. It became successful, so she added items to the menu. Her passion, however, is showing livestock for FFA and 4H. Through her baking business, Tatum has been able to fund a great deal of her livestock showing expenses. Economics Arkansas, who partners with the district on Magnolia READS, saw her video and heard her story. Arkansas Business magazine picked up on the story and published it in its April issue. The name of the article is "Tatum's Journey: How the Pandemic, Pastries, and Her Passion Created an Entrepreneur." Tatum is the 13-year-old daughter of Julie and Micah Carter. The link to the online article is
https://www.economicsarkansas.org/about_us/lasting-impact-stories/tatums-journey-how-the-pandemic-pastries-and-her-passion-created-an-entrepreneur.html
.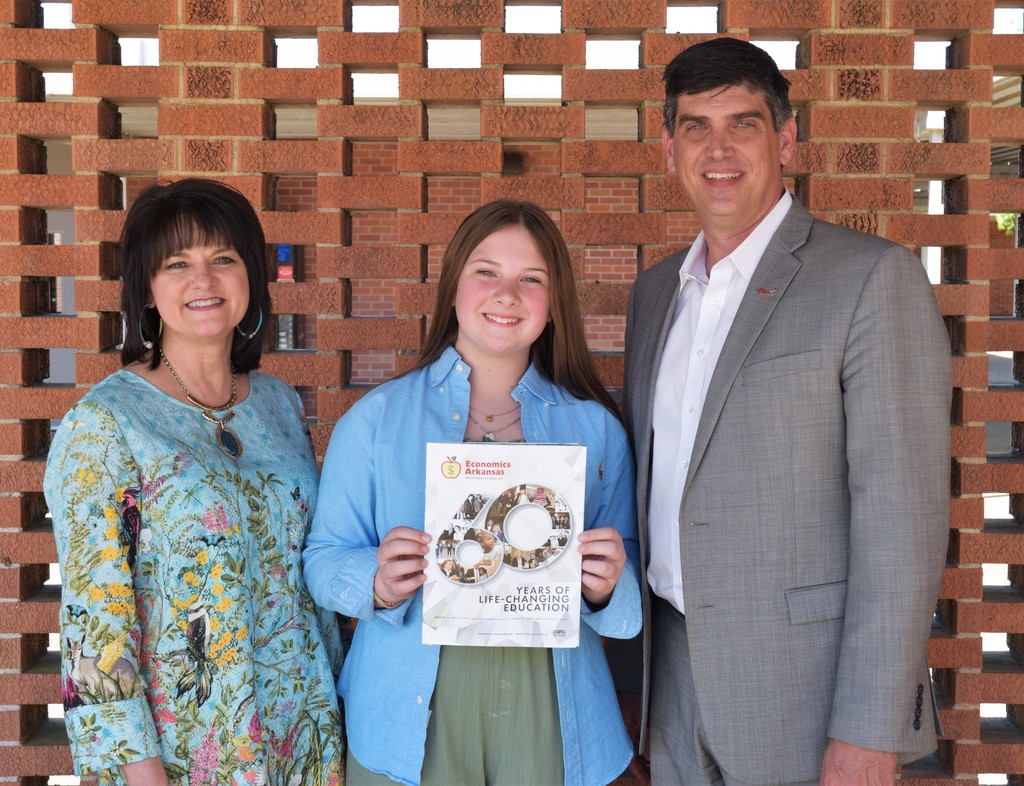 ADMINISTRATIVE PROFESSIONALS DAY!!!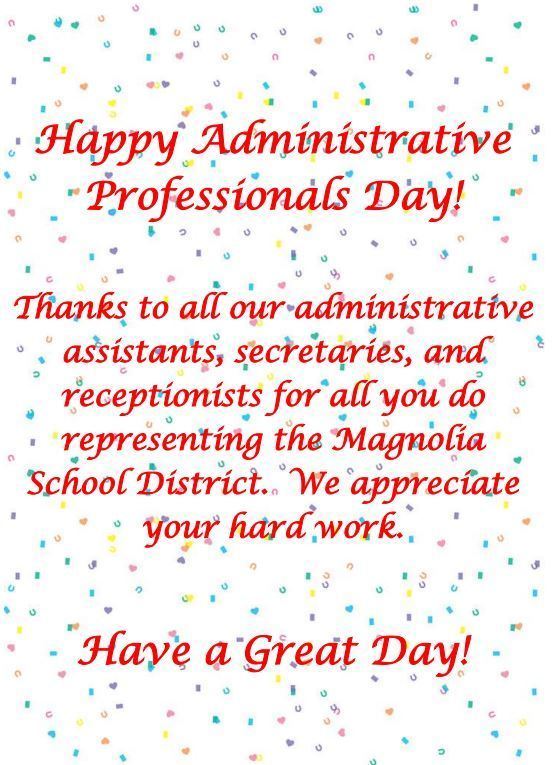 In today's Magnolia READS video, Emily Barker, a math interventionist at East Side and co-owner of Kathy's Dance Arts Studio, shares how her passion for dancing and teaching as a teenager led to her careers as a classroom teacher and dance studio owner. Click the link below to hear Emily's journey.
https://youtu.be/PFa9ixdqYsM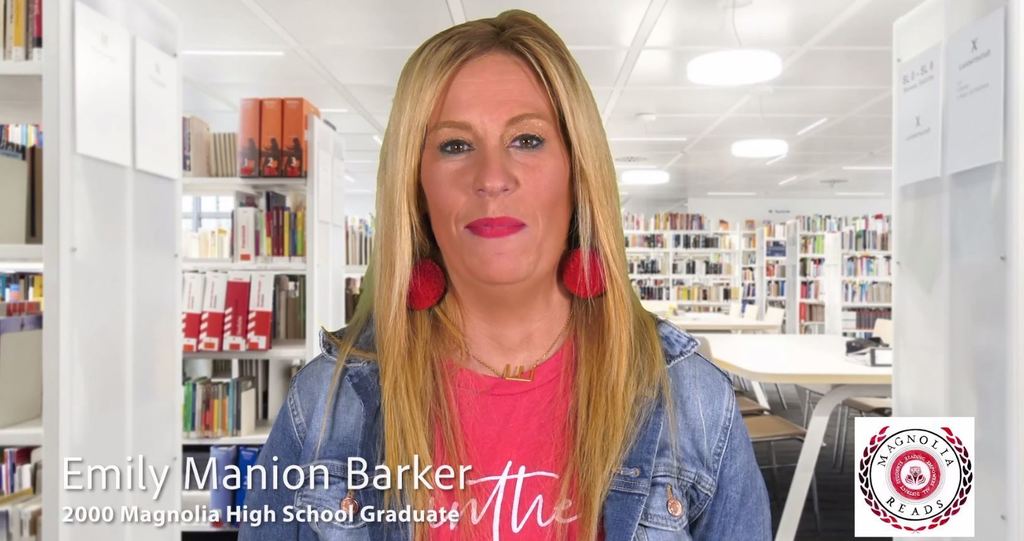 SETH EDWARDS SIGNS WITH SAU BASEBALL Surrounded by a large group of friends and family in the MHS Freshman Academy, Magnolia High School senior Seth Edwards signed a letter of intent to play baseball for the Southern Arkansas University Muleriders next fall. Edwards, a pitcher for the MHS baseball team, amassed many impressive statistics and honors during his career with the Panthers. During the 2021 season, Seth had a record of 5-3 with a 1.53 ERA. He struck out 73 batters in 62 innings pitched. Edwards also earned All-Conference and All-State honors and was named to the All-State Tournament team. This season, Edwards had a .404 batting average with 13 RBIs. He also had .600 on base percentage. Seth earned a 5-2 record on the mound in 38 innings pitched. His ERA was 2.19 with 60 strikeouts. Head coach Bobby Beeson stated that, "Seth is a kid with a whole lot of character. He is committed to not only baseball, but also to high academic standards." Beeson also noted that, "he never waivers under pressure and we can count on him when we need him on the mound." Seth is the son of Sheryl and Steve Edwards.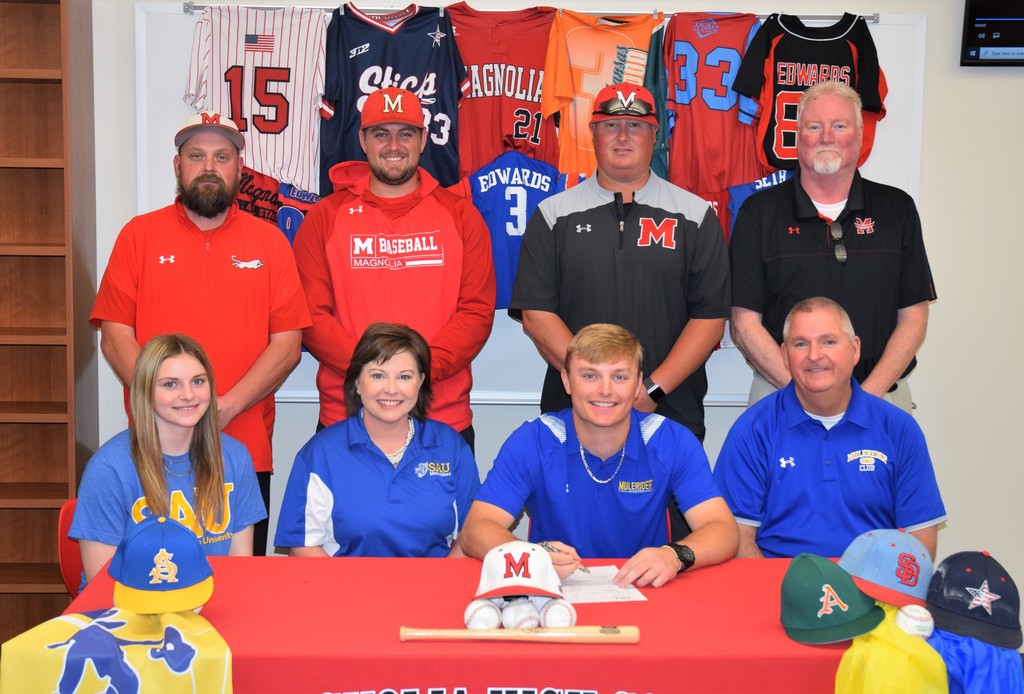 MAGNOLIA MIDDLE SCHOOL SELECTS LATRINA BROWN AS TEACHER OF THE YEAR Latrina Brown was recently selected as the 2022 Teacher of the Year at Magnolia Middle School. Latrina is from Waldo, AR and a former graduate of Waldo High School. She attended Southern Arkansas University where she received a Bachelor of Education in 1994 and a Master's degree in 2001. Latrina began teaching in Taylor, AR at Taylor Elementary School, where she taught fourth-sixth grade math from 1994-2006. She joined Magnolia School District in 2006 and is currently teaching sixth grade math. Latrina has been teaching for a total of 28 years and feels truly blessed to have a career she loves. Latrina is a devoted wife and mother to her beautiful family. She is happily married to her best friend Charles Brown of Stephens, AR, and has three children, Kris'Shonda, Krystal, and Rawlin. She enjoys being around family, taking long walks, fishing, and eating!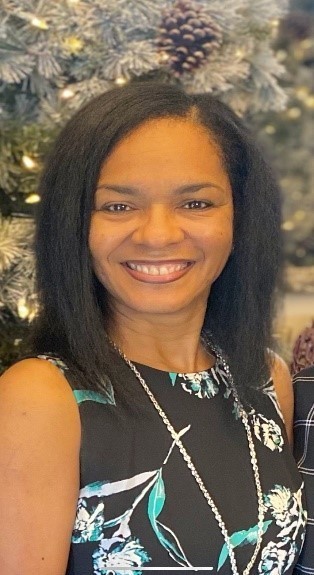 SHELBY LAMKIN SELECTED MHS 2022 TEACHER OF THE YEAR Shelby Lamkin was recently selected as the Magnolia High School 2022 Teacher of the Year. Shelby is a 1992 graduate of Stamps High School and a 1996 graduate of Southern Arkansas University with a BSE in Math Education. Shelby obtained her M.Ed. degree in Math Education from Southern Arkansas University in 2000. This is the twenty-sixth year of Shelby's teaching career and her eleventh year in the Magnolia School District. She has taught in the Prescott, Nevada County, Columbia Christian, and Magnolia School Districts. In the last couple of years, she has begun to have grand-students, students who are children of previous students. Shelby has also served as an adjunct faculty member of Southern Arkansas University for the last 8 years, teaching College Algebra and Trigonometry. Shelby teaches Algebra I and Geometry at the Magnolia High School Freshman Academy. She believes that the Freshman Academy design and concept is very beneficial to students. Students arrive on the high school campus as freshman and spend a year in the academy where teachers, staff and administration work to help them grow and reach their potential both in the classroom and in life. Shelby feels that the students, faculty and administration at Magnolia High School are some of the best people you will find and the opportunities provided to students here are amazing. Shelby feels truly blessed to be a part of MHS-FA. Shelby has been married to her husband Jeff for twenty-six years. The Lamkins live in Buckner, Arkansas and have a poultry farm where they raise broilers for Tyson. They have two daughters, Macy and Kelcy. Kelcy is a senior at Magnolia High School where she is active in FFA and a member of the Lady Panther basketball team. Macy is a senior at Southern Arkansas University studying Agriculture Education. The Lamkins are members of Willisville United Methodist Church.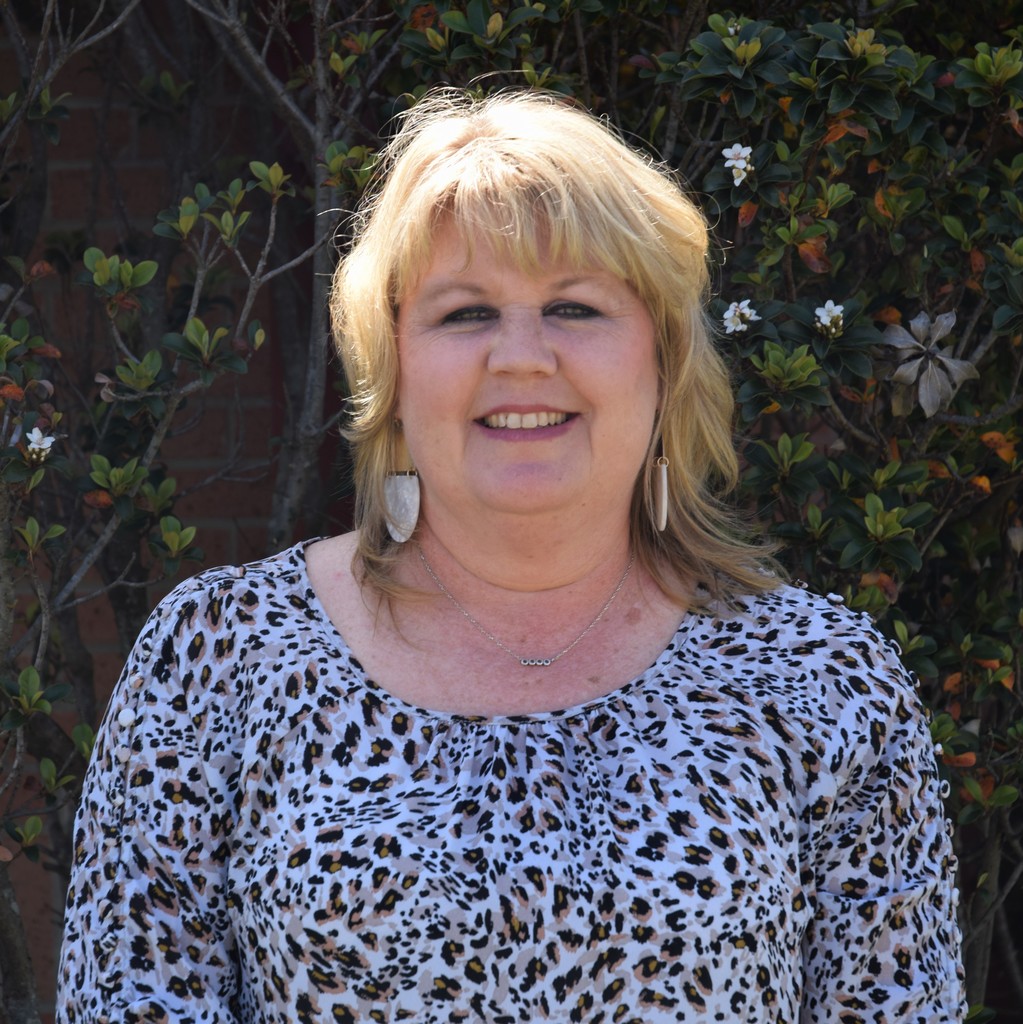 HANNAH BURNS SELECTED AS TEACHER OF THE YEAR AT CENTRAL ELEMENTARY SCHOOL Hannah Burns was recently selected as Central Elementary School's 2022 Teacher of the Year. Hannah formerly lived in Texarkana, Arkansas, and is a 2009 graduate of Genoa Central High School. She became a permanent Magnolia resident after meeting and marrying her husband, Josh, at Southern Arkansas University. She graduated from SAU in 2013 with a BSE in Early Childhood Education. Hannah is completing her ninth year of teaching fourth grade literacy at Central Elementary School. She enjoys serving as the fourth grade literacy chair and on many special event committees. During her time at Central, she has started a recycling program, led a school wide vocabulary initiative, and helped put on many of their annual academic pep rallies. Hannah's favorite part about working at Central has been the relationships she has formed with colleagues and students. Education has always been "in the family" for Hannah. Both of her parents were public school educators for many years and inspired her love of teaching. Her father retired after 30 years of teaching and coaching, and her mom is retiring this year after 37 years of teaching elementary school. Both of her sisters and their husbands are also teachers in different school districts in Arkansas. Hannah has been married to Joshua Burns for 10 years, and they have a four-year-old daughter, Lincoln Kate. Outside of school, she enjoys reading, spending time with family and friends, and different creative hobbies like decorating, sewing, crafting, and design. Hannah and her family also enjoy serving with their church family at New Life Community Church.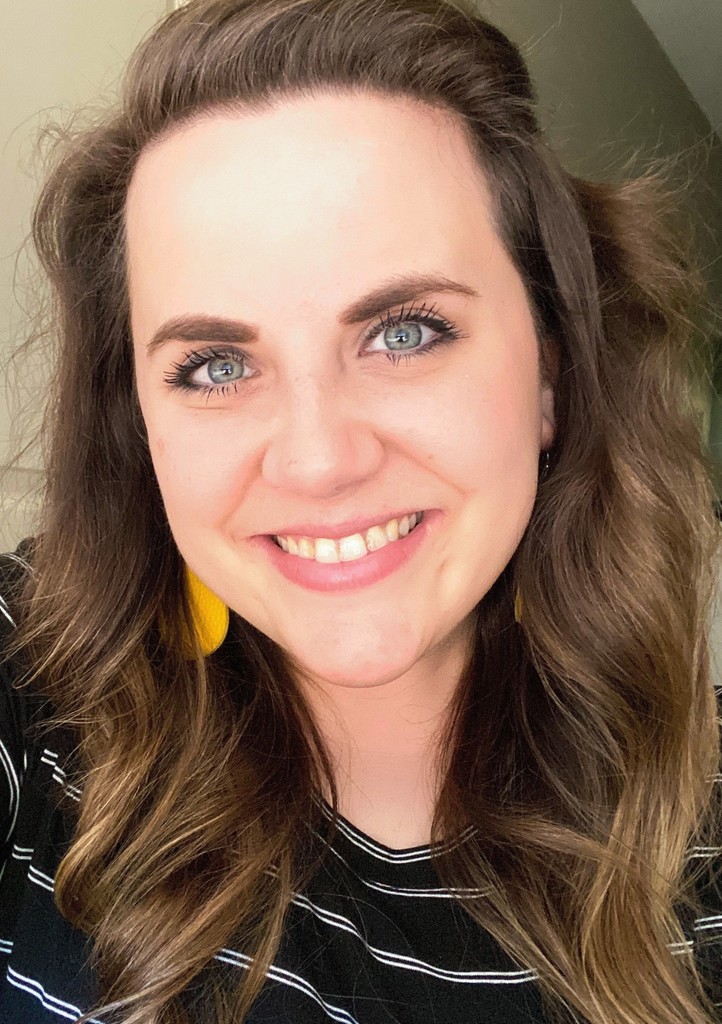 SHEILA WALLER CHOSEN WALKER PK CENTER TEACHER OF THE YEAR Sheila Waller was recently selected as the 2022 Teacher of the Year at Walker Pre-Kindergarten Center. Sheila is originally from Camden, Arkansas and is a graduate of Harmony Grove High School. She attended Southern Arkansas University where she received her degree in Elementary Education in 2018. Her teaching career began four years ago when she was hired at Walker Pre-Kindergarten Center. Sheila states, "I worked at Walker Pre-Kindergarten Center previously as the Family Services Manager but had to leave due to conflicts with my education classes. I was devastated. I prayed for God to show me my purpose and give the position I desired. I cannot imagine a better working atmosphere to guide, educate, and care for students. My coworkers are my family, and my students are my heart. I am blessed beyond measure." Sheila is married to Scott Waller and together they have two children, Hannah and Ethan. Hannah is a senior at Magnolia High School and Ethan is a seventh grader at Magnolia Middle School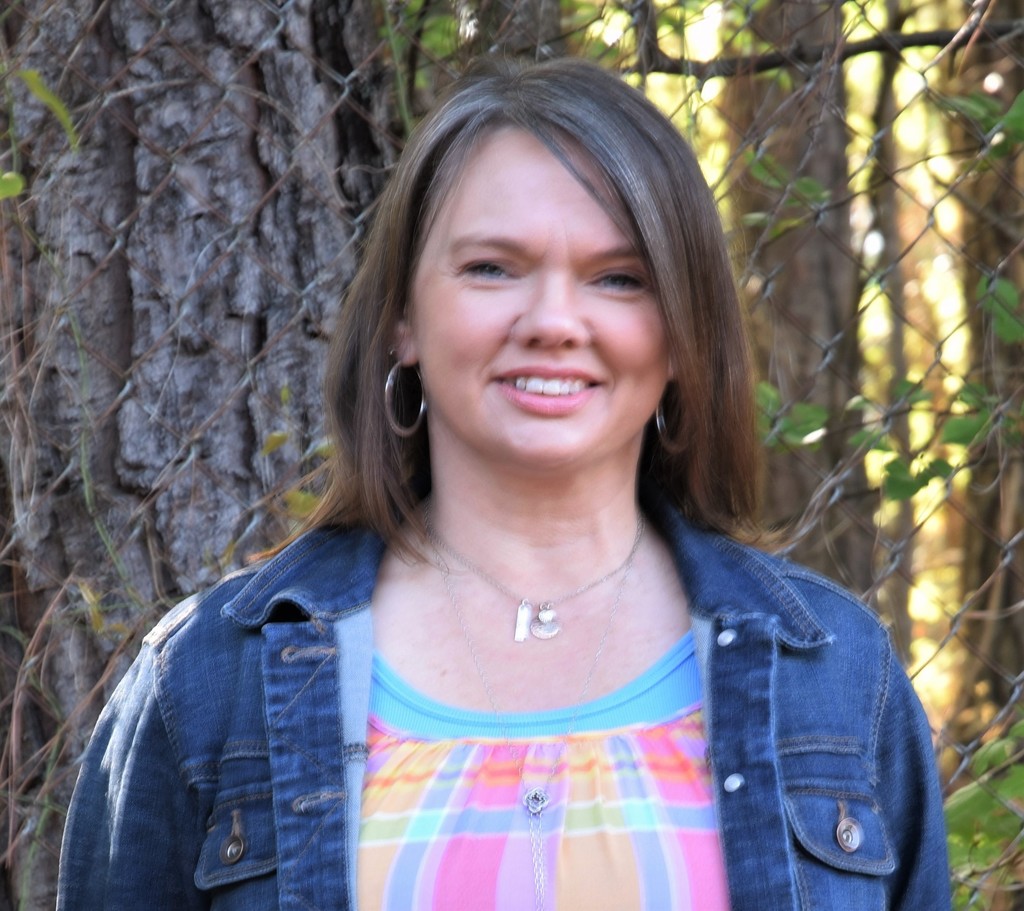 SARAH STORY CHOSEN EAST SIDE ELEMENTARY SCHOOL TEACHER OF THE YEAR Sarah Story was recently selected as the East Side Elementary School Teacher of the Year. Sarah is a self-contained, Special Education teacher at East Side. Originally from Mt. Pleasant, Texas, she came to Magnolia in 2009 to attend Southern Arkansas University. She did her student teaching at East Side and graduated with her bachelor's degree in Early Childhood Education in 2013. Sarah continued her education by pursuing and graduating with her master's degree in Special Education in 2015. She has been working for the Magnolia School District for 9 years. Her East Side family helped her plan her wedding to Andrew Story in 2016 and regaled her with tales of motherhood when she was getting ready to welcome their son Theo into the world in 2018. The East Side family has been by her side through all of the ups and downs of life, and she says that they are the reason that she is the teacher she is today. In her free time, she enjoys running, reading psychological thrillers, and listening to true crime podcasts. Her goal as a teacher is that each of her students will know that they are valued and important. She saw a quote once that stated, "Just because a student is nonverbal does not mean they have nothing to say". She enjoys helping students, both verbal and nonverbal, learn how to express themselves and explore their world, while also developing their social and academic skills. The greatest moments for her are when she sees her students begin to grasp concepts that they have struggled with in the past, whether it is a student who is only beginning to communicate using their voice or other communication system or tackling an academic skill that they have wrestled with for a long time. She became a teacher because she believes that if we want to change the world, we do it by educating children and teaching them empathy, reasoning, communication, and to believe in themselves. She is honored, humbled and thankful to be chosen by her peers to represent East Side as Teacher of the Year. It would be her privilege to be chosen as the Teacher of the Year for the District where she started her journey as a student teacher and that continues to provide opportunities for her while challenging her to be the very best teacher she can be for her students and her peers.

Thomas Campos-Diaz is a senior at MHS and is also an intern in the Work-Based Learning Class. Thomas works at the Walmart Garden Center. Click the link below to hear Thomas share his experiences of what he has learned as a student intern.
https://youtu.be/mUi9q8-DU1I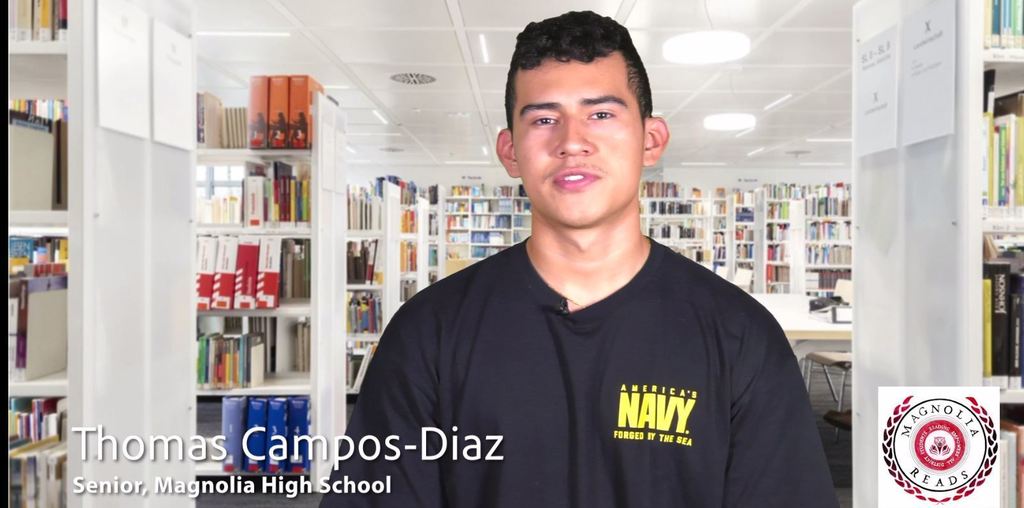 In today's Magnolia READS video, 1991 Magnolia High School graduate and former Lady Panther athlete, Stephanie Manning Bradford, shares the lessons she learned as a teenager working a job while fulfilling her responsibilities as a student and athlete. Click the link below to hear Stephanie's story.
https://youtu.be/n9MR0m2Rtx4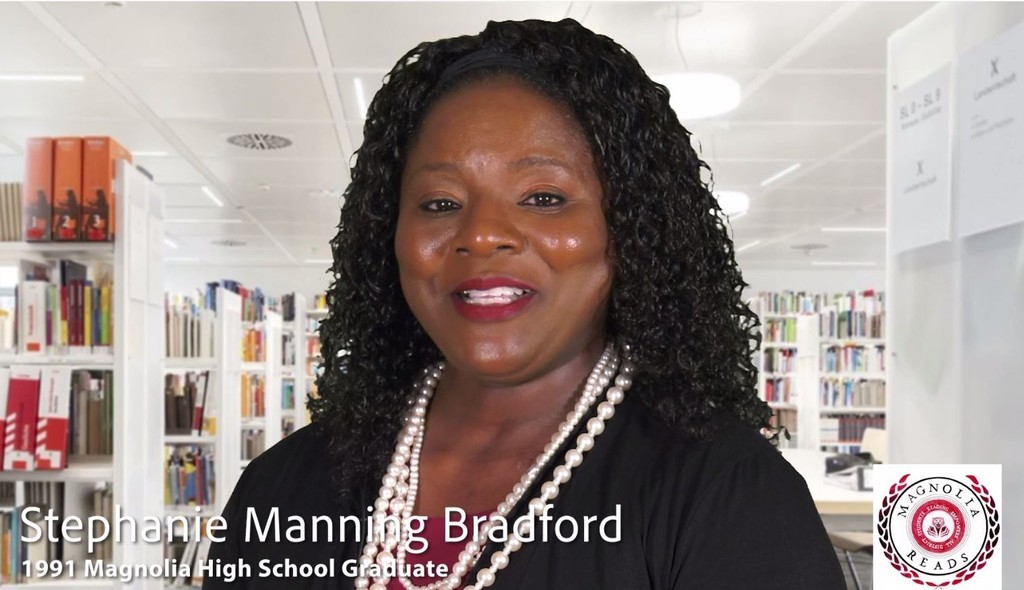 Peoples Bank Donates Copies of Coach Williams' Book to Walker PK The Magnolia School District and Walker Pre-Kindergarten Center appreciate Peoples Bank for purchasing Lady Panther basketball coach Shanae Williams' children's book Trading Places: A Tale of Two Best Friends Who Never Lost Hope for the students and staff at Walker. Peoples Bank representatives Jamie Waller and Debbie Arnold presented each student with an autographed copy of the book and a bookmark. Coach Williams went to each classroom to read her book to students.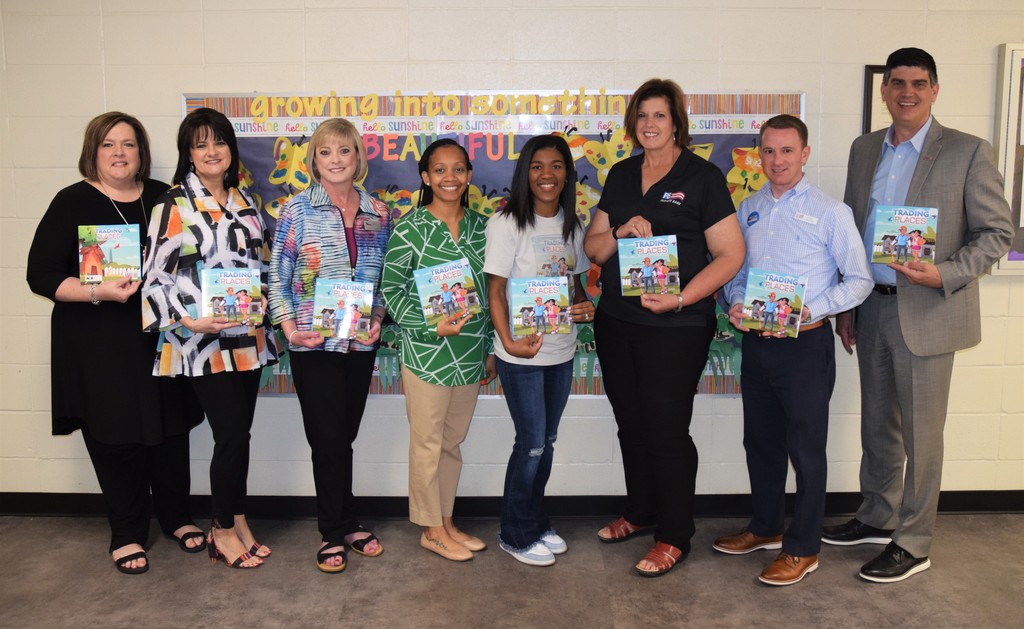 Our first video in the 2022 Magnolia READS Video Series comes from MHS senior, Jalaiha Bishop. Jalaiha is a student in the Work-Based Learning class and an intern at Flying Burger. Click the link below to hear Jalaiha share what she has learned in her intern class and on the job in regards to managing her finances, developing a work ethic, and working with others.
https://youtu.be/UeaAVaEWEsg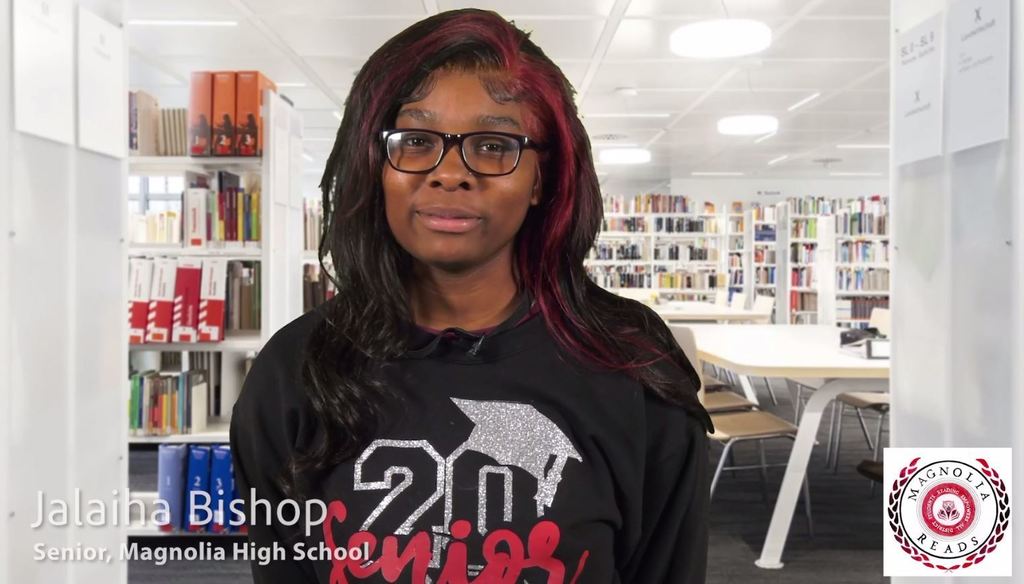 Magnolia READS Kick-off On Monday, April 11, students at East Side and Central Elementary Schools will once again embark on a special project, an all-school book club and financial literacy project called Magnolia READS. The acronym READS stands for Reading Empowers All District Students. Each kindergarten through fifth grade family will receive a copy of the same book—Lunch Money by Andrew Clements. Families are encouraged to make time to participate in this fun and worthwhile family activity. Reading aloud at home with your children is a valuable experience that better prepares your child to be an effective reader. While students at the elementary schools will read the book, other district students will also be involved in this project. For the third year, Farmers Bank & Trust Co. is collaborating with the District on the Magnolia READS project. Farmers purchased the book Lunch Money for all the students and staff in grades K-5. Economics Arkansas also partners in the project. They helped supply the students and staff with resources to use while reading the book. The District extends our deepest appreciation to Farmers Bank & Trust for the donation to purchase the Magnolia READS books and to Economics Arkansas for supplying the supplemental resources and bookmarks for all students.

The yearly Magnolia READS (Reading Empowers All District Students) financial literacy initiative kicked off today for students at East Side and Central Elementary Schools. Students in kindergarten through fifth grades will read Lunch Money by Andrew Clements. The District greatly appreciates Farmers Bank & Trust for purchasing the books for the third consecutive year for students, faculty, and staff. Our deepest appreciation also goes to Economics Arkansas for providing bookmarks for the students, and resources and activities for the teachers. Click the link below to view Mr. Ward introduce this year's project.
https://youtu.be/0cKtKwpKGV4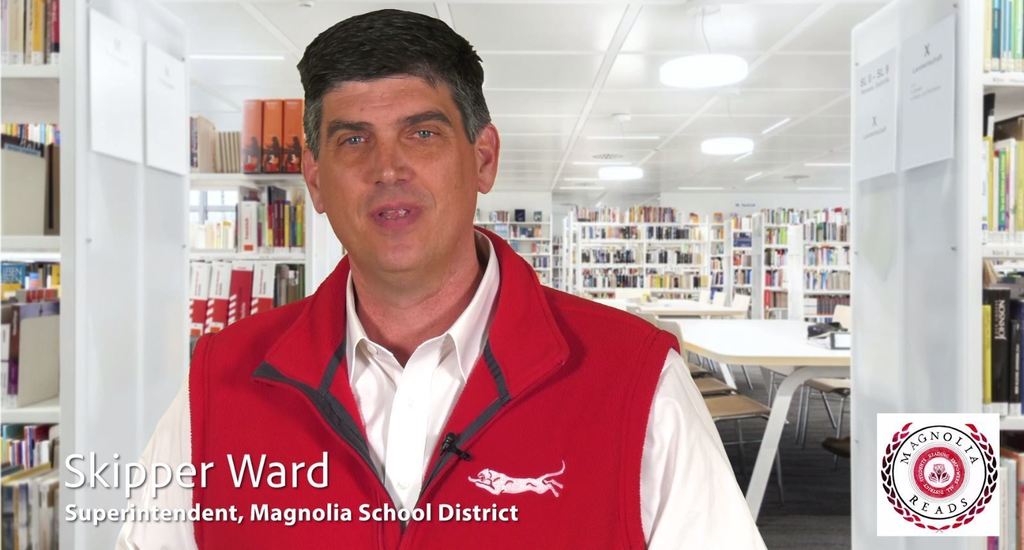 NATIONAL ASSISTANT PRINCIPAL WEEK APRIL 4-8